---
Well why not have a bit of fun. If you have any jokes you want to share, E-mail me them HERE.
On with the gags.
---
A man is in a hotel lobby. He wants to ask the clerk a question. As he turns to go to the front desk, he accidentally bumps into a woman beside him and as he does, his elbow goes into her breast. They are both startled and he says, "Ma'am, if your heart is as soft as your breast, I know you'll forgive me." She replies, "if your penis is as hard as your elbow, I'm in room 1221."
---
A young man walks up and sits down at the bar. "What can I get you?" the bartender inquires. "I want 6 shots of Jagermeister," responded the young man. "6 shots?!? Are you celebrating something?" "Yeah, my first blowjob." "Well, in that case, let me give you a 7th on the house." "No offence, sir. But if 6 shots won't get rid of the taste, nothing will."
---
A businessman boards a flight and is lucky enough to be seated next to an absolutely gorgeous woman. They exchange brief hellos and he notices she is reading a manual about sexual statistics. He asks her about it and she replies, "This is a very interesting book about sexual statistics. It identifies that American Indians have the longest average penis and Polish men have the biggest average diameter. By the way, my name is Jill. What's yours?" He coolly replies, "Tonto Kawalski, nice to meet you."
---
One night, as a couple lay down for bed, the husband gently taps his wife on the shoulder and starts rubbing her arm. The wife turns over and says: "I'm sorry honey, I've got a gynaecologist appointment tomorrow and I want to stay fresh." The husband, rejected, turns over and tries to sleep. A few minutes later, he rolls back over and taps his wife again. This time he whispers in her ear: "Do you have a dentist appointment tomorrow too?"
---
Bill worked in a pickle factory. He had been employed there for a number of years when he came home one day to confess to his wife that he had a terrible compulsion. He had an urge to stick his penis into the pickle slicer. His wife suggested that he should see a sex therapist to talk about it, but Bill indicated that he'd be too embarrassed. He vowed to overcome the compulsion on his own. One day a few weeks later, Bill came home absolutely ashen. His wife could see at once that something was seriously wrong. "What's wrong, Bill?" she asked. "Do you remember that I told you how I had this tremendous urge to put my penis into the pickle slicer?" "Oh, Bill, you didn't." "Yes, I did." "My God, Bill, what happened?" "I got fired." "No, Bill. I mean, what happened with the pickle slicer?" "Oh...she got fired too."
---
A man was visiting his wife in hospital where she has been in a coma for several years. On this visit he decides to rub her left breast instead of just talking to her. On doing this she lets out a sigh. The man runs out and tells the doctor who says this is a good sign and suggests he should try rubbing her right breast to see if there is any reaction. The man goes in and rubs her right breast and this brings a moan. From this, the doctor suggests that the man should go in and try oral sex, saying he will wait outside as it is a personal act and he doesn't want the man to be embarrassed. The man goes in then comes out about five minutes later, white as a sheet and tells the doctor his wife is dead. The doctor asks what happened to which the man replies: "She choked."
---
A guy walks into a bar with a pet alligator by his side. He puts the alligator up on the bar. He turns to the astonished patrons. "I'll make you a deal. I'll open this alligator's mouth and place my genitals inside. Then the gator will close his mouth for one minute. He'll then open his mouth and I'll remove my unit unscathed. In return for witnessing this spectacle, each of you will buy me a drink." The crowd murmured their approval. The man stood up on the bar, dropped his trousers, and placed his privates in the alligator's open mouth. The gator closed his mouth as the crowd gasped. After a minute, the man grabbed a beer bottle and rapped the alligator hard on the top of its head. The gator opened his mouth and the man removed his genitals unscathed as promised. The crowd cheered and the first of his free drinks were delivered. The man stood up again and made another offer. "I'll pay anyone $100 who's willing to give it a try". A hush fell over the crowd. After a while, a hand went up in the back of the bar. A woman timidly spoke up. "I'll try, but you have to promise not to hit me on the head with the beer bottle"
---
A small white guy goes into an elevator, when he gets in he notices a huge black dude standing next to him. The big black dude looks down upon the small white guy and says: "7 foot tall, 350 pounds, 20 inch dick, 3 pound left ball, 3 pound right ball, Turner Brown" The small white guy faints!! The big black dude picks up the small white guy and brings him to, slapping his face and shaking him and asks the small white guy. "What's wrong?". The small white guy says; "Excuse me but what did you say?". The big black dude looks down and says "7 foot tall, 350 pounds, 20 inch dick, 3 pound left ball, 3 pound right ball, my name is Turner Brown." The small white guy says, "Thank god, I thought you said 'Turn around. "
---
There was this couple who had been married for 50 years. They were sitting at the breakfast table one morning when the old gentleman said to his wife, "Just think, honey, we've been married for 50 years." "Yeah," she replied, "Just think, fifty years ago we were sitting here at this breakfast table together." "I know," the old man said, "We were probably sitting here naked as jaybirds fifty years ago." "Well," Granny snickered, "What do you say...should we get naked?" Where upon the two stripped to the buff and sat down at the table. "You know, honey," the little old lady breathlessly replied,"My nipples are as hot for you today as they were fifty years ago." "I wouldn't be surprised," replied Gramps. "One's in your coffee and the other is in your oatmeal!"
---
A fireman came home from work one day and told his wife, "You know we have a wonderful system at the fire station: BELL 1 rings and we all put on our jackets, BELL 2 rings and we all slide down the pole, BELL 3 rings and we're on the fire truck ready to go. 'From now on when I say BELL 1, I want you to strip naked. When I say BELL 2, I want you to jump in bed. And when I say BELL 3, we are going to make love all night." The next night he came home from work and yelled "BELL 1!" The wife promptly took all her clothes off. When he yelled "BELL 2!", the wife jumped into bed. When he yelled "BELL 3!", they began making love. After a few minutes the wife yelled "BELL 4!" "What's this BELL 4?" asked the husband? "ROLL OUT MORE HOSE," she replied, "YOU ARE NO WHERE NEAR THE FIRE!"
---
AN OLD COUPLE ARE BOTH RESIDENTS IN AN OLD PEOPLES HOME AND ARE BEGINNING TO TAKE A SHINE TO EACH OTHER. THINGS DEVELOP AND THEY DECIDE THEY WANT TO GO TO BED TO HAVE SOME FUN. "BUT THERE'S NEVER ANY PRIVACY IN THIS PLACE" SAYS THE OLD GIRL. SENSING HE'S UP FOR SOME ACTION THE OLD BOY REPLIES, "THAT'S NO PROBLEM. THEY'RE ALL GOING ON AN OUTING NEXT THURSDAY SO WE'LL STAY BEHIND AND WE WON'T BE INTERRUPTED". "YOU'RE ON" SHE SAYS. SO NEXT THURSDAY COMES ROUND AND THE REST OF THE RESIDENTS ALL BOARD THE BUS AND GO OFF FOR THEIR DAYTRIP WHICH LEAVES THE OLD COUPLE ALONE AS THEY WANTED. "COME ON THEN TIGER LETS GO TO BED" THE WOMAN EAGERLY SAYS. SO THEY STRIP OFF AND GET THEMSELVES INTO BED. "I'LL TELL YOU WHAT" SHE SAYS "WOULD YOU MIND IF YOU WENT DOWN ON ME? I FIND IT REALLY RELAXES ME AND IT HELPS ME GET THE JUICES FLOWING" "RIGHTO" COMES THE REPLY. AND DOWN UNDER THE COVERS HE GOES. WELL AFTER ABOUT THIRTY SECONDS HE COMES BACK UP COUGHING AND SPLUTTERING AND SAYS "I'M VERY SORRY BUT I REALLY CANT DO THAT ANY MORE, THE SMELL IS JUST TOO STRONG!" "OH"SHE SAYS, "THAT'LL BE THE ARTHRITIS!" "ARTHRITIS?" HE QUESTIONS. "BUT YOU DON'T GET ARTHRITIS IN YOUR FANNY DO YOU?" "NO" SHE ANSWERS " THE ARTHRITIS IS IN MY SHOULDERS, IT MEANS I CAN'T WIPE MY ARSE!"
---
A woman accompanied her husband to the doctor's office. After his check-up, the doctor called the wife into his office alone. He said, "Your husband is suffering from a very severe disease, combined with horrible stress. If you don't do the following, your husband will surely die. "Each morning, fix him a healthy breakfast. Be pleasant, and make sure he is in a good mood. For lunch make him a nutritious meal. For dinner prepare especially nice meals of his favourite foods. When he comes home after work, don't burden him with chores, as he probably had a hard day. Don't discuss your problems with him, it will only make his stress worse. And most importantly, be intimate with your husband several times a week so he is completely satisfied". "If you can do this for the next 10 months to a year, I think your husband will regain his health completely". On the way home, the husband asked his wife, " What did the Doctor say?" "You're going to die", she replied.
---
An Irish priest is driving down to New York and gets stopped for speeding in Conn. The state trooper smells alcohol on the priest's breath and then sees an empty wine bottle on the floor of the car. He says "Sir, have you been drinking?" "Just water" says the priest. The trooper says, "Then why do I smell wine?" The priest looks at the bottle and says, "Good Lord! He's done it again."
---
A few years ago a group of tree-huggers was presenting an alternative to the ranchers for controlling the coyote population. It seemed that, after years of the ranchers using the tried and true methods of shooting and/or trapping the predators, the tree-huggers had a "more humane" solution. What they proposed was for the animals to be captured alive, then castrate the males, then let them loose again, and then the population would be controlled. I, kid you not, this was ACTUALLY proposed to the Wyoming Wool and Sheep Grower's association. Well, all the ranchers thought about this amazing idea. Finally, a old boy in the back stood up, kicked his hat back and said: "Son, I don' think you understand the problem. These coyotes aren't fuckin' our sheep, they're eating them!!"
---
It was the usual scene in the City's Night Court, the Police had rounded up the usual collection of streetwalkers and brought them before the Judge. Three hookers stood before him, all arrested on the same corner. He asked the first lady what she had to say for herself. The woman was irate, "I don't know what all this is about, your Honour. I'm a college student doing research for a term paper." The Judge sighed and said, "Well, Miss, I would have thought you'd done enough 'research' by now. My computer says you have two prior convictions. Thirty days and $250 fine." He then turned to the second lady and requested that she testify. The woman began crying softly and said, "Judge, I am just a housewife out getting a pack of cigarettes for my husband. I have no idea why I was arrested." This time, the Judge shook his head and said, "Well, young lady, the officer tells me that he saw you hand a stack of bills along with the cigarettes to your 'husband' in his new Cadillac. Thirty days and $250 fine." He turned to the last of the trio and asked her occupation. The woman said simply, "I'm a hooker." Refreshed at her honesty, the Judge laughed and said, "How's business?" She sneered and replied, "Terrible Judge, with all these students and housewives around, competition is really tough!"
---
Young Bill was courting Mabel, who lived on an adjoining farm out west in cattle country. One evening, as they were sitting on Bill's porch watching the sun go down over the hills, Bill spied his prize bull doing the business on one of his cows. He sighed in contentment at this idyllic rural scene and figured the omens were right for him to put the hard word on Mabel. He leaned in close and whispered in her ear, "Mabel, I'd sure like to be doing what that bull is doing." "Well then, why don't you? "Mabel whispered back. "It is YOUR cow."
---
A gentleman had a serious problem. He had made several attempts to get into the men's restroom, but found it to be occupied. A lady noticed that he was walking funny, taking small steps, and with a look of pain and anxiety on his face. "Sir," she said, "the ladies restroom is unoccupied. You may use it if you promise not to touch any of the buttons on the wall." He was about to pop, and would have promised anything, so he agreed to her terms. The relief was pure joy, and as he sat there, savouring the feeling, he noticed the buttons he had promised not to touch. Three white buttons were identified by the letters: "WW", "WA", and "PP", and there was one red button labelled "ATR". Who would really know if he touched them? He couldn't just sit there and resist a challenge like this, so he pushed the "WW" button. Warm Water was sprayed gently upon his bottom. Such a nice feeling came over him. The men's restroom didn't have nice things like this. Anticipating even greater pleasure, he pressed the "WA" button. Warm Air replaced the warm water, wafted and swirled about, gently drying his underside. He knew what he was going to do when the warm air stopped, and without hesitation, he pressed the "PP" button. A large Powder Puff caressed his bottom, adding a fragrant scent of spring flowers to his unbelievable pleasure. The ladies room was far more than a restroom; it was a place of tender loving pleasure! He could hardly wait for the powder puff to quit. When it did, he pushed what he knew was going to be the ultimate joy! He knew he was in the hospital as soon as he opened his eyes. A nurse was staring down at him with a smirk on her face. "What happened? How did I get here? The last thing I remember, I was in the ladies restroom!" "You pushed one too many buttons," replied the nurse, as her smirk expanded to a grin. "That last button marked "ATR" is an Automatic Tampon Remover. Your penis is under your pillow."
---
An elderly Rabbi is walking down the street one day when he notices a very small boy trying to press a doorbell on a house across the street. However, the boy is very small and the doorbell is too high for him to reach. After watching the boy's efforts for some time, the Rabbi moves closer to the boy's position. He steps smartly across the street, walks up behind the little fellow and, placing his hand kindly on the child's shoulder leans over and gives the doorbell a solid ring. Crouching down to the child's level, the Rabbi smiles benevolently and asks, "And now what, my little man?" To which the boy replies, "Now we run!"
---
A man arrives at the Pearly Gates, waiting to be admitted. St. Peter reviews the Big Book to see if the man's name is written in it. After several minutes, St.Peter closes the book, furrows his brow, and says, "I'm sorry, I don't see your name written in the Big Book." "How current is your copy?" asks the man. "I get a download every ten minutes," St. Peter replies, "Why do you ask?" "I'm embarrassed to admit it, but I was always the stubborn type," explains the man. "It was not until my death was immanent that I cried out to God, so my name probably hasn't arrived to your copy yet." "I'm glad to hear that," acknowledges St. Peter, "but while we're waiting for the update to come through, can you tell me about an extraordinary deed you did during your lifetime?" The man thinks for a moment and then says, "Well, there was this one time when I was driving' down a road and I saw a group of biker gang members harassing this poor girl. I slowed down to take a look, and sure enough, there they were, about 20 of 'em, torturing this poor woman." "What did you do next?" asked St. Peter. Anyway, I got out my car, grabbed a tire iron from the trunk, and approached the leader of the gang. Sure enough, the bikers formed a circle around me and told me to get lost or I'd be next." "And, what happened?" questioned St. Peter. "Well, I smashed the leader over the head with the tire iron. Then, I turned to the others and yelled, Leave this poor, innocent girl alone! You're all a bunch of sick, deranged animals! Go home before I really teach you a lesson in pain!" St. Peter, duly impressed, exclaims, "Wow! When did this all happen?" "Oh, about three minutes ago."
---
Jesus is walking through heaven one day, a little bored, when he passes the Pearly Gates and sees St. Peter talking with an elderly gentleman and decides to go over and hear the man's tale. "Where are you from, old man?" Jesus asks. "Well, I lived my life on the shores of the Mediterranean," the old man replies. "Hmmm. I spent some time there myself," says Jesus. "What did you do for a living?" "Well, I was a poor carpenter," says the old man. "Wow. So was I," says Jesus. "And I had a son," says the old man. "Well, he wasn't my son really, but a miraculous spirit came into him and he became a very famous person." Jesus can't hold back any longer. "Father!" he cries. The old man falls into Jesus' outstretched arms. "Pinocchio!"
---
A young woman in New York was so depressed that she decided to end her life by throwing herself into the ocean. She went down to the docks and was about to leap into the frigid water when a handsome young sailor saw her tottering on the edge of the pier, crying. He took pity on her and said, "Look, you've got a lot to live for. I'm off to Europe in the morning, and if you like, I can stow you away on my ship. I'll take good care of you and bring you food every day." Moving closer, he slipped his arm around her shoulder and added, "I'll keep you happy, and you'll keep me happy." The girl nodded yes. After all, what did she have to lose? Maybe a fresh start in Europe would give her life new meaning. That night, the sailor brought her aboard and hid her in a lifeboat. From then on, every night he brought her three sandwiches and a piece of fruit, and they made passionate love until dawn. Three weeks later, during a routine inspection, she was discovered by the captain. "What are you doing here?" the captain asked. "I have an arrangement with one of the sailors," she explained. "I get food and a trip to Europe, and he's screwing me." "He sure is, lady," the captain said. "This is the Staten Island Ferry!"
---
What has 4 legs and 1 arm?
A happy pit bull!
---
Little Susie's mother came running into the room where her husband was reading the newspaper. "Do you have any idea what I just found as I was cleaning Susie's room??" cried the mother. "I found a collection of whips, chains, handcuffs, and dirty magazines under her bed!" "Well," sighed the father, "I guess a spanking wouldn't be an appropriate punishment.
---
Harvard University decide to do a study about why the head of a man's penis is wider than the shaft. They spent one million dollars and took one full year for their study. Their conclusion was the head was wider to give the man more pleasure during sex. Hearing about Harvard's study, Duke University decided to do one of their own. They spent two million dollars,took two years, and came to the conclusion it was so the woman could have more pleasure during sex. The University of Georgia decided to do their own study. They spent $13.65 and bought a case of Old Milwaukee and an issue of Playboy magazine and decided the head was wider to keep the man's hand from flying off the end and hitting him in the head.
---
There was a guy who had been having chronic trouble in trying to get an erection. After weeks of frustration, he finally breaks down and and goes to the doctor. The doctor gives him a thorough examination and finally makes the diagnosis. "Well, there's good news and there's bad news," she says. "The bad news is that the muscles around your penis are deteriorating, and there is no cure." The guy, on the verge of panic, finally regains his composure. "So what's the good news?" he asks. The doctor says, "There is an experimental treatment available, but there are no guarantees. It involves transplanting the muscles from a baby elephant's trunk into your penis. Would you like to try it?" The guy thinks about it and finally says, "Well, the thought of going through life without being able to have sex is just too much for me. What have I got to lose? Let's do it." So the doctor performs the operation. A few weeks later, the guy takes his girlfriend out to a nice restaurant to celebrate his new equipment. While sitting at the table, he feels a stirring between his legs; it gets progressively worse until it reaches the point of being painful. Seeking relief, he reaches down and unzips his fly to relieve some of the pressure. Suddenly, his penis leaps free from his pants, slides over the tabletop and grabs a dinner roll, then returns to his pants again. "Wow!" says his stunned girlfriend, "That was impressive! Can you do that again?" Eyes watering and face flushed, he says, "Probably...But I don't know if I can fit another dinner roll up my ass!"
---
King Arthur was going away to war, and he didn't want any of the other knights to touch his wife. So he put a chastity belt on her. It was a special chastity belt and anything that entered it was chopped off immediately. So Arthur went to war and came back. He called all of his Knights to his round table. He ordered them to drop there pants. As he looked around the room he saw that all of the knight's penises had been chopped off. All of them but one that is. Sir Lancelot's was still fully intact. "Sir Lancelot, I am very proud of you what do you have to say for yourself?" Said Arthur. Lancelot replied, "Et cut ef ma thung."
---
Ten Things men know for sure about women.
1.
2.
3.
4.
5.
6.
7.
8.
9.
10. They have breasts.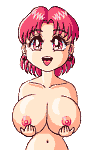 ---
Dave works hard at the plant and spends most evenings bowling or playing basketball at the gym. His wife thinks he is pushing himself too hard, so for his birthday she takes him to a local strip club. The doorman at the club greets them and says, "Hey, Dave! How ya doin?" His wife is puzzled and asks if he's been to this club before. "Oh no," says Dave. "He's on my bowling team." When they are seated, a waitress asks Dave if he'd like his usual Budweiser. His wife is becoming uncomfortable and says, "You must come here a lot for that woman to know you drink Budweiser." "No, honey, she's in the Ladies Bowling League. We share lanes with them." A stripper comes over to their table and throws her arms around Dave. "Hi Davey," she says, "Want your usual table dance?" Dave's wife, now furious, grabs her purse and storms out of the club. Dave follows and spots her getting into a cab. Before she can slam the door, he jumps in beside her and she starts screaming at him. The cabby turns his head and says, "Looks like you picked up a real bitch tonight, Dave!"
---
A man and a woman who have never met before find themselves in the same sleeping carriage of a train. After the initial embarrassment, they both manage to get to sleep, the woman on the top bunk, the man on the lower. In the middle of the night, the woman leans over and says, "I'm sorry to bother you, but I'm awfully cold and I was wondering if you could possibly pass me another blanket." The man leans out and, with a glint in his eye, says, "I've got a better idea....let's pretend we're married." "Why not," giggles the woman. "Good", he replies. "Get your own fucking blanket.
---
A guy walks into a pub and sees a sign hanging over the bar which reads:
Cheese Sandwich 1.50
Chicken Sandwich 2.50
Hand Job 10.00
Checking his wallet he finds one single tenner, he walks up to the bar beckons to one of the three exceptionally attractive Blondes serving drinks to an eager-looking group of men. "Yes?" she inquires with a knowing smile, "can I help you?" "I was wondering", whispers the man, "are you the one who gives the hand-jobs?" "Yes", she purrs, "indeed I am" The man replies "Well wash your fucking hands, I want a cheese sandwich.
---
What is the definition of nothing?
When a man with an erection walks into a brick wall and injures...his nose.
---
John walks into a pharmacy and asks for a bottle of Viagra. The pharmacist says "Do you have a prescription?" John says, "No, but here's a picture of my wife."
---
Why are Jewish men circumcised?
Because Jewish women won't touch anything unless it is 20% off.